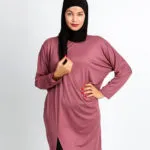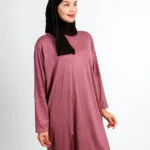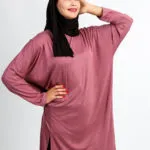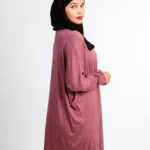 Indian Pink – Long Oversized Sweater
Refined Style: Indian Pink Long Oversized Sweater
Add a touch of sophistication to your wardrobe with our Indian pink long oversized sweater. Specially designed for veiled women, this long sweater in 100% cotton offers a perfect blend of comfort and style with its flattering straight cut and round neck. The front slit adds a touch of modernity and elegance to this sweater, perfect for a casual and chic look for everyday wear. Also available in Beige, Black, Navy Blue, Military Green –
Discover more styles
!
Absolute Comfort and Versatility: Long Sleeves and Practical Details
Immerse yourself in absolute comfort with its long sleeves and flattering straight cut. The front slit adds a touch of functionality and style to this long sweater, perfect for everyday wear. Its versatility makes it an essential choice for all occasions, whether for a busy day or a relaxed evening. Add this long Indian pink oversized sweater to your collection today for a style that is both chic and comfortable.
100% Cotton Fabric
Our sweater is made from premium quality 100% cotton fabric, offering a soft and breathable feel for optimal comfort throughout the day.
Location
Express delivery
Standard Delivery
Europe

€

11

2 -5 Jours

€

8

10-30 Jours

USA/
Canada

€

15

2 -5 Jours

€

10

10 – 30 Jours

GCC / Africa

€

15

2 -5 Jours

€

10

10 – 30 Jours

Rest of the world

€

15

2 -5 Jours

€

10

10 – 30 Jours

Tunisia

€

2

24h – 72h